PayPal is world most popular payment processing services. Every blogger have PayPal account to receive affiliate, advertising and direct ads revenue. PayPal will then easily transfer that amount to your local bank account. In this post I am gonna tell you paypal alternatives, downfalls of PayPal and benefit of PayPal competitors. You are thinking PayPal provide you free payment processing. But you are wrong; they are charge higher than other alternatives to PayPal.
PayPal is still not allowing many countries for receiving money. This might be one reason to move PayPal alternative 2016. Let's explore more about PayPal.
Why to go PayPal Competitors You must Need to Know?
Your Customers or Affiliate Providers can't accept PayPal payments.
Various reasons of Blocking of PayPal account.
Convenient for small amount but not for Larger.
Not Lowest Fees in Industry.
Need to pay hundreds of dollars as commission.
Money conversion Rate in not upto date. (example : 1$=66.63Rs But they pay only 64.60Rs per Dollar) Big difference.
Some Countries not support like Iraq, Bangladesh, Pakistan etc.
PayPal have Country Based restrictions.
Payoneer competitor of PayPal is most popular online money processing system. Listed all PayPal alternative 2016 are run in UK USA Canada France India and more than 40+ countries. PayPal competitors offer much better services on very lowest transaction fee, highly secure payments, less commission, and different transaction options.
Best Competitive PayPal Alternatives 2016
Payoneer is one of the oldest payment processing services of global payment and now available in 200+ countries. Payoneer receive money in USD and EURO countries.
Free to Receive Payments
Lowest conversion charges
Higher Transaction Limits.
Available in 200+ countries  (uk, Canada, usa, india and more).
24/7 Customer Supports.
Offer Link Below : Earn $25 on $100 transaction

Those are PayPal competitor that offers same services. You will find little bit difference in transaction fee, term & conditions, support and other features. You can save transaction cost and here is offer link for $25 signup Payoneer credit. ISeenLab suggest you to use Payoneer as the best PayPal alternatives 2016.

Neteller is a partial alternative to paypal, because we can't send money to other accounts. Instead money transfer Neteller is best PayPal alternative 2016. Various Payment option are provided by Neteller make user experience better and increase sale online.
Support Different Payment methods
Work with 26 Currencies
Easy Integration with popular applications
Automatic Fund Release Feature
Available in 100+ countries
50k sellers, Level 1 compliance, 14 year experience.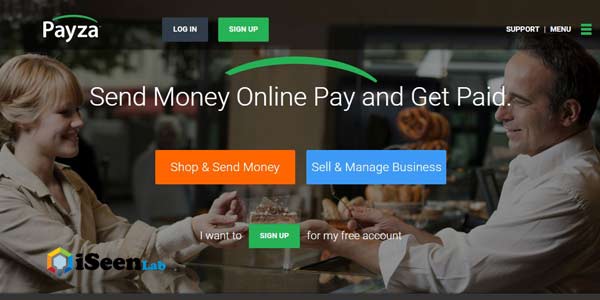 Payza is new popular payment processing PayPal alternative and offers same features as PayPal. Free to create new account or business account as per need. The interface is pretty cool and easy to understand. If you have already account with Payza then I love to hear your reviews and feedback.
Unique Security Protection
Free Sending Money.
Support: Email or Live Chat
Dedicated Sale team (Business Account)
Accept Payment from 190 Countries.
Best Feature: Has Dedicated Resolution Center.


Skrill also be an option of alternative to PayPal because of their currency conversion fees.  I have use couple of times to transfer money and it's work great.
Instant Withdraw and Deposit
Exclusive Skrill offers
Pay Safely like ebay, skype, upwork.
Get Paid Globally
Dedicated Customer support
Feature: Flexible Payment Partner 39 currency and 200 countries.

Authorize.net rewarded with "Confirmit ACE 2015  AWARDS" is Award is for Achievement in Customer Excellence.
Affordable for Small Business Solution
Provides Mobile App Secure Billing
Free Fraud Tools
Free Website Payment seal
Reliable and secure
400,000+ Merchant Customer
Note: Setup Fee $49, Monthly $25 and Free Additional Services
Hope this post solved your problem. Let us know which service is best for you, would you like to share your opinion about PayPal alternative services 2016. Please feel to share, so ISeen Lab visitors will take benefit of it. Have a good day.