Newsletter plugin for WordPress is help you to build broad audience to make your business and blogging most popular. Visitor, reader, client are visiting thousands of website online and searching for right product and service. in this case to bind those customer need some media and email are the best. Because many people are open email address daily and read emails. To introduce your business and blogging website newsletter plugin WordPress is best option.
Best Newsletter WordPress Plugin 2015
1 out of 6: ChimpMate Pro | WordPress MailChimp Assistant
Quality of ChimpMate Pro is it don't use annoying pop ups. They offer great responsible theme and smooth. Customizable feature allow you to target customer based on devices. This newsletter for WordPress helps testing and analysis by using analytics feature.
Features of ChimpMate Pro WordPress newsletter Plugin
Powerful Live Editor
Lighting Fast
Instant Analytics
Highly Customizable Theme
Fully Responsive
Social Media Visitors.
2 out of 6: Opt-In Panda for WordPress
Opt-In Panda work with all mail service providers: Aweber, MyMail, MailPoet, Sendy, K-news, MailChimp, GetResponse and SmartEmailing. Allow also both with and without email confirmation subscriber email listing. Just need to tell which mode is suited for you for emails. Also no need of refreshing content or page.
Features of Opt-In Panda Newsletter for WordPress
Effectively conversion of Visitor to Subscribers
Add MailChimp, Aweber, GetReponse and other
Send Mass Emails & Increase Revenue
Social Media Support
Both With/Without Email Confirmation
3 out of 6: List Fusion – Best PopUp and Lead Generation Plugin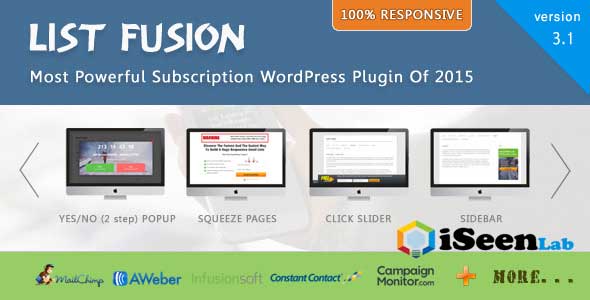 Features of List Fusion WordPress Newsletter
Popup Integration.
Redirect page to custom URL
Support Extensions
A/B/C/D Testing Features
Social Media Support
PopUp Display Controller
WooCommerce, Contact Form 7 and more
4 out of 6: Groups Newsletters Plugin
Features of Groups Newsletter WordPress Plugin
Automated campaigns
Full Documentation
Targeted Newsletters
Great Support
Opt in on Registration
Preview Newletters
Hold and continue campaigns.
5 out of 6: Simple Signup – WordPress Email Subscription Form
Features of Simple Signup Worpress Newsletter plugin
Popup and advanced embed modes
Simple youtube integrations
Facebook and Google Plus Integration
Free Templates
Google Analytics integrations
Customized Live Newsletter Preview
Track reviews and Statics.
Graphical Analytics Report
6 out of 6: Ninja Kick: Subscription WordPress Plugin
Feature of Ninja Kick Newsletter plugin WordPress
Epic Experience
Triggering control
Form Layouts
Responsive Design
All Popular Services
Analytics Tracking code
User friendly nature.
Social links bar.
To Get 50+ WordPress Newsletter Plugin Visit Following Link
Now start your building audience and make increase conversion rate by using latest techniques and this premium newsletter wordpress plugins. if you have any suggestion then include in comment, so help my visitor to get better choice and also enjoy with Iseen Lab.