Keyword research not an easy task and after finding right keyword. To optimize that keyword is like impossible. For demonstration let's take the keyword "siteground coupon" having decent amount of traffic. But My keyword research went wrong. this keyword having highest level of competition. because of this till I am not able to rank for this keyword. But If you same consider in case of long tail keyword. Competition will be low and conversion will be higher.
Long Tail Pro Review gives you technique to do keyword research and optimization in easiest way. There is a reason, because today keyword competition for keyword (specific word) is very high and to optimize those keywords. It will take long time and efforts as well. But if same we do for long tail keyword, then we can easily rank (gsa search ranker discount) and get high quality traffic as well.
Benefits of long tail keyword (via Long Tail Keyword Pro) are:
Getting much more targeted traffic.
High Conversion Rate.
Be Specific to Subject.
Multi word phases easy to rank.
More specific customer and product.
Additional to this ISeenLab is using SemRush SEM tool to get competitor research to rank competitive keywords. I achieved over 300% more relevant traffic to my blog via Semrush.
Read : Story Behind my long tail keyword research.
Long Tail Keyword are more important factor for better targeting audience. How to find Long Tail Keywords? Long Tail Pro is new concept to find the more profitable and less competitor keyword. So you can get more relevant traffic to your blog. Long tail pro v3 fulfilled what I am looking from last few years? It's like one time investment and lifetime benefit. They had 60 Days Money Back Guaranty, if in case you are not satisfied, then you can get 100% cashback. So Download Long Tail Pro.
Recommended Resources: make your visitor to reader via email subscribe service on your blog. For that I use Aweber and GetResponse service. Those best email marketing softwares will help you to build trust and make thus reader to customer.
Visitor => Email Subscribe => Reader => Customer => Commission
This Cycle will start from visitor and relevant visitor to your product is possible by specific keywords. Long Tail Pro v3 is doing the same. Before Start I would like to share more about myself.
Short Tutorial to know: How to use Long Tail Pro?
Step 1: Create Campaign
You can do it via Adding new Project. Make sure language must be English and also specify target country and search network.
Step 2: Insert Phase to find Profitable Keyword
Just type keyword in which you are interested to rank for? I find out 3000 keywords in 3 minute and as compare with other tools. Long Tail Pro v3 review is one of the fastest keywords research tool.
Step 3: Filter Keyword Result for better accuracy.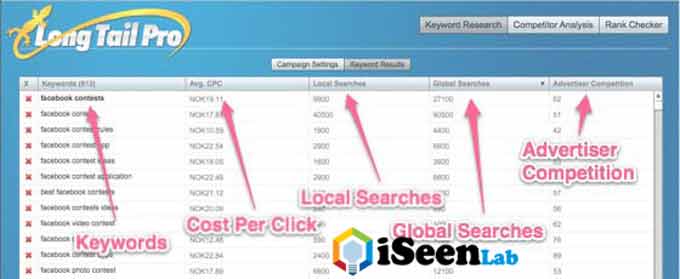 Manually checking thousands keyword and find right keyword among them it's difficult one. Good news is Long Tail Pro 3.0 Review version has extremely advanced filtering feature. It can filter beyond local/global search, number of words, competition, availability and bid filter features.
Step 4: Calculate Keyword competitiveness
This feature is only available in Long tail Pro platinum version. Similar to that "Keyword Difficulty" tool is in SemRush SEM tool. But Result will be different for both because Long Tail Pro pulling data from AdWords keyword tool.
Step 5: Check your Keyword Performance
Finally we have to track how well keyword is performing. This will be done via Long Tail Pro Rank Checker Tool. GSA Search Engine Ranker and GSA Captcha Breaker along with strategy will rank you #1 on the Google.
Above Picture clear the idea what Long Tail Pro is? and how you getting benefit as compare to other SEO service providers.
LONGTAIL PRO DISCOUNT CODE 2016
So, Grab $147 Discount + worth $594 Bonus with Long Tail pro discount.

For all those reason they are giving you 60 Days Money Back Guaranty. They will return 100% of your money if you are not completely satisfied with their service.  Latest version long tail pro 3.0 is released so take benefit of it.